Hello! My name is Catherine Falce and I've been a music teacher since 1992.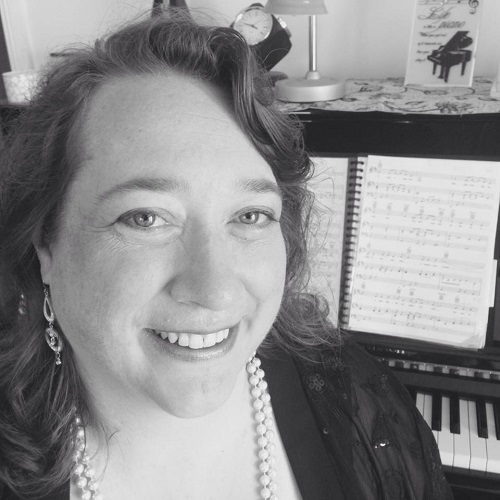 My philosophy:
Loving to learn, with music at the foundation, has been a life-long motto of mine. Music has pattern, repetition, creativity, and expression. What I've been learning and find intriguing is how music can really make brains grow, so the theory should stand that the earlier one is exposed to a musical environment, the better the brain develops and the easier learning can happen for the whole person.
This means learning music must also be FUN and accessible for all ages. It doesn't matter what age you start: 5 or 65!
I used to only take on students from the age of 6 when they were developing the ability to read, but since becoming a Kindermusik educator I've learned how to teach musically to the youngest of students. It's absolutely delightful to see children grasp musical concepts through playful activities, and then develop on through to Kindergarten and Primary school age when they take on their first instrument.

Another important aspect to learning music is for families to realise that a learner has to step through the various stages of learning in sequence. Music is already being learned at a young age when exposed by listening, moving and vocalising in the family environment. It makes perfect sense when you compare this with reading skills: first children hear speech, learn to imitate with voice, expand vocabulary through stories/being read to .. then the act of actually reading starts to build. This is how I also approach the teaching of musical skills.
My background:
Personally, I have been enthusiastic about music from a young age, playing and performing on recorder, flute, piano, guitar and singing. I come from large family, and we used to ALWAYS sing together. Yes, ALWAYS!! I still don't know how my Dad managed to put up with our singing during long car trips when we'd repeat the same songs over and over again.
Working with children has also been a passion which led me to Primary School teaching in 1988. I graduated with a Grad.Dip.Ed.(Music) in 1992 from RMIT (formally Phillip Institute of Technology) in Melbourne. I have also had experience performing in choirs, leading children's choirs, performing in musical theatre productions and dance (gold star Ballroom and Latin American).
Curriculum and teaching style:
I realise each student has their own learning style, so I like to offer a few options for teaching methods. I'm very familiar with the classical educator Charlotte Mason, so I'll often incorporate some of her techniques to help with theory learning and familiarisation of traditional songs. I will usually cover these areas in lessons: music listening and rote learning, singing (or humming .. but I do encourage the use of the voice to develop aural skills), music reading and analysis (or theory), composition and sight reading exercises. Duets and ensemble work are encouraged as much as possible. I will also use games to reinforce a particular learning point at the end of a lesson.
While my personal background in piano learning was classically based, I encourage students to learn a variety of styles. This would include jazz, blues, modern as well as classical, so that there is a broad repertoire.
Since taking on private piano students, several have successfully completed AMEB and ANZCA exams. Students have completed either Piano, Piano for Leisure, Singing for Leisure or Theory. I am also familiar with the ABRSM syllabus for singing, having completed Grade 8 recently myself.


If you'd like to contact me about lessons, head on over to the CONTACT page and complete the form. I'll be in touch!